Angie Keith, LMT
"I can do all this through him who gives me strength." -Philippians 4:13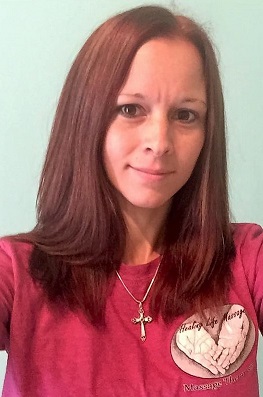 I am licensed through the state of Indiana. I was Board Certified through National Board of Therapeutic Massage & Bodywork from 2009-2016.
I worked for Health 1st Wellness Centers for 6 years (2009-2015) where I worked side-by-side with medical doctors and chiropractors to create an overall wellness through massage, exercise therapy, and chiropractic care.
I am CPR and AED Certified through American Red Cross.
I graduated from Kaplan College in 2009 for massage therapy.
I studied Human Biology at Union College, IUPUC, and University of Indianapolis from 2004-2011.
I am currently attending IUPUI, where I will complete my Bachelors in Physical Education & Health Education with a Minor in Wellness Coaching.
"It's not stress that kills us, but our reactions to it." -Hans Selye
"Change your story, change your perception, change perception, change the world." -Jean Houston

Specialties/Modalitites:
-Myofascial release
-Trigger point therapy
-Sports Massage
-Therapeutic/Medical Massage
-Orthopedic massage
-Deep Tissue
-Kinesio Tape Therapy
-Raindrop Therapy
-Shoulder/Rotator Cuff injuries & impingement
-Hip injuries/impingement